Gitter-Yelen Collection Showcases Masters of Modern Japanese Ceramics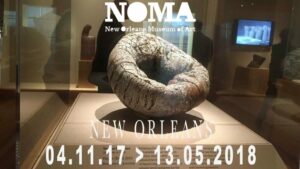 NOMA Presents Selections from Notable Collection
NEW ORLEANS, LA – For the first time in over 20 years, the New Orleans Museum of Art (NOMA) will present an exhibition devoted to modern and contemporary ceramics. New Forms, New Voices: Japanese Ceramics from the Gitter-Yelen Collection, on view November 3, 2017 through April 2018 in NOMA's Japanese galleries, will showcase selected works by masters of the medium. Drawn from the collection of Dr. Kurt Gitter and Alice Yelen Gitter, and guest-curated by noted Japanese-art scholar Joe Earle, the exhibition features 82 works by 40 artists, including three historic vessels illustrating both the chronological range of the collection, and a visual touchpoint for viewers to better understand the traditions referenced by modern and contemporary artists.
Presented in five sections, the exhibition and its accompanying catalogue reveal the breadth and depth of modern ceramics production in Japan as seen through the lens of discerning collectors. Among the noted ceramists whose works are included in the exhibition are: Ryūichi Kakurezaki, Machiko Ogawa, Yo Akiyama, Jun Nishida, Sueharu Fukami, Shinobu Kawase, Osamu Suzuki Kazuo Takiguchi and Kenji Miyashta, among others.
"Ceramics have been made in Japan for over 15,000 years. Showcasing modern and contemporary Japanese ceramics alongside historic works reveals a much-evolved craft, steeped in tradition," said Susan Taylor, the Montine McDaniel Freeman Director of NOMA. "We are delighted to work with Joe Earle, and honored to showcase the prestigious works of the Gitter-Yelen Collection."
Featured Themes
New Forms, New Voices: Japanese Ceramics from the Gitter-Yelen Collection is showcased in five sections: Inspired by Ancient Kilns; Hewn from the Earth, Inspired by Nature; Masters of Porcelain; Embracing the Avant Garde, and A Love of Decoration.
Catalogue and Curator
The exhibition is accompanied by a full-color, 94-page catalogue, published by NOMA. The catalogue features an interview with Kurt Gitter and Alice Yelen Gitter on the formation of the collection, as well an essay and artists' biographies by Joe Earle.
Guest curator and Asian Art specialist Joe Earle is an independent scholar, and serves as a Senior Consultant for the Japanese Art Department at Bonhams Auction House in London.
Exhibition-Related Programming
NOMA will host an Educator Workshop: Science of Clay on November 14, 2017.
"Japanese Ceramics Tomorrow," a lecture by guest curator Joe Earle, takes places on Friday, November 17, 2017 at 6 p.m. in NOMA's Stern Auditorium.
As part of NOMA's "Friday Nights at NOMA" programming, Deputy Director for Curatorial Affairs/Curator of Asian Art Lisa Rotondo-McCord will lead a gallery talk on Friday, January 19, 2018.
Lisa Rotondo-McCord will lead a noontime talk that explores the five themes behind the exhibition on Wednesday, January 24, 2018.